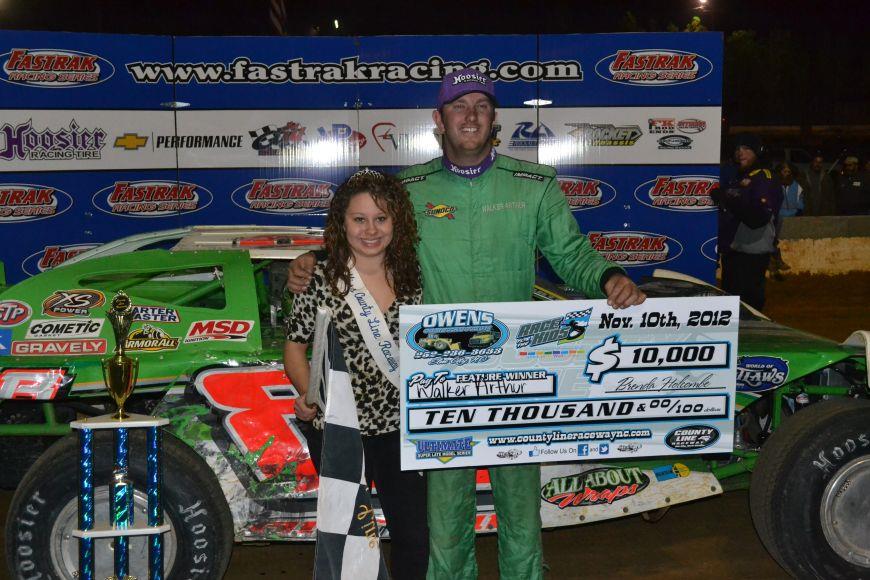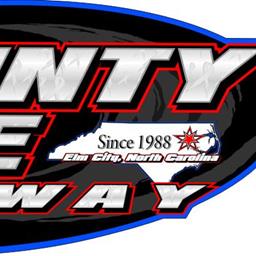 11/12/2012
County Line Raceway
---
CLR Caps off Season in Grand Fashion
By Paul Durham Sports Editor
The only bad thing about Saturday's season-ending races at County Line Raceway was the season-ending part.
Under a canopy of beautiful fall weather, fans were treated to the spectacle of the ULTIMATE Series Super Late Model 50-lap main event, a thrilling Open-Wheel Modified 40-lap event, the track debut of the U.S. Legends Dirt Modified and an exciting Super Stock Four-Cylinder race to start the evening's feature races as well as sporadic bursts of fireworks from the infield for the fourth annual Victory Junction Gang Camp benefit "Race for the Kids.�
But perhaps the biggest cheers from the crowd, estimated at more than 2,000, came during the 10-car demolition derby, which capped the evening's festivities. Adrian Lassiter, driving a metal battering ram with "The Streaker� emblazoned via spray-paint on the side, claimed the derby trophy by pinning Donald Stokes' No. 21 car on the wall in front of the grandstand. As the mud flew and the crowd, less than 20 feet from the action, screamed, Lassiter drilled Stokes' car into submission.
But there was plenty of excitement preceding that mud-caked finale as Walker Arthur capped his weekend of track domination by cruising to the checkered flag — and taking the $10,000 winner's prize — in the ULTIMATE Super Late Models event. Whereas Arthur drained the drama from the marquee race, Nick Hoffman created plenty of it in the Open-Wheel Modified race when he slipped around leader Chris Parker with less than three laps to go and hung on for the win.
Danny Breuer handily won the U.S. Legends Dirt Modified track debut after Brad Hamm staved off hard-charging Bill Winstead and Jason Horne to claim the Super Stock Four-Cylinder race on the three-eighths-mile, clay oval.
In a pair of 10-lap Super Late Model consolation races to open the show, Danny Watts and Jeff Smith took the checkered flags. That set the stage for the final 2012 event for a track regular division, the Super Stock Four-Cylinders.
HAMM HUSTLES ON
Horne brought a new car to the track Saturday and nearly toppled the track record for a qualifying lap, coming in at 17.799 seconds.
"We missed the track record by three-thousands tonight in qualifying. Just missed it,� he said.
He got out in front of Hamm, who started on the outside, at the drop of the green flag but a big mess in turn 3 brought out a lengthy caution with another restart. From there, it was Hamm who surged in front.
"I thought the first restart was pretty good,� Horne said. "I felt like he might have jumped a little bit on the second but it wouldn't have made no difference. My car was loose from the time they dropped the green.�
Hamm, on the other hand, kept his No. 49 in front through two more cautions.
"We picked the right tires tonight,� he said after his fifth 2012 win at County Line.
The Elm City resident demurred with a grin when asked what tires were the right tires.
"I can't tell everything!� Hamm cackled.
Winstead caught Horne before lap 10 when another yellow flag slowed the action and gave Winstead a shot at Hamm. The Bailey driver's No. 97 would narrow the gap around the 12th lap, nosing up on Hamm. But as the laps continued to pile up without a caution, Hamm picked up some breathing room.
By the last few laps Hamm and Winstead had put some lap cars between them and Horne in third place.
"Yeah, they're too tough,� Hamm said of Winstead and Horne. "They've been running awhile, especially Bill. He's a good driver — a good clean driver to run with.
"He's always tough. If you can beat Bill, you've done something!�
Winstead said his tires kept him from making that push to try to get around Hamm.
"I think my tires went away. My tires got kind of hard,� he said. "I hadn't looked at them. It was hooked up early on but it kind of went away and I said second's better than putting it in the wall.�
Horne, who was the Mini Mods points champion on asphalt at Southern National Motorsports Park this year, said he's looking forward to putting his car back on the track there at its annual Thanksgiving Classic in a couple of weeks.
"I don't know if we missed the setup or just got to work the bugs out,� he said. "We need more time with the car. I'm just happy to finish third.
"That was my first year over there (at Southern National). I've been running over here for a long time. I love the dirt!�
In fourth was Eric Hobgood while Eric Hill took fifth and CLR 2012 points king John Proctor was sixth.
DIRT MODIFIEDS DEBUT
Breuer qualified for the pole in the U.S. Legends Dirt Modifieds and stayed in front throughout the 20-lap event.
The cars, which can't exceed 69 inches in width and resemble go-carts on steroids, flitted around the clay surface propelled by their 1,250cc, water-cooled engines.
Breuer's No. 3 car was chased throughout by Everette Dunlap, who started on the outside and finished second, well ahead of points champion Tommy Corellis in third. Jerry Lambert was fourth and Mark Lowery took fifth.
The series, which mostly races at East Lincoln Speedway in Stanley, concluded Saturday night with its 17th event of the season.
REAL RACING
Hoffman proved the maxim that racing is about more than just outrunning the field in the Open-Wheel Modified 40-lap race.
The Mooresville resident started on the outside beside pole-winner Parker, who lives in Gray's Creek, and chased him for most of the race. The pair began lapping cars in the crowded 25-car field by the fifth lap. Russell Erwin, the 2012 CLR points champion in the division, chased in the third spot while David Mielke, Kyle Strickler and Dave Hess Jr. battled for the fourth spot.
By the 15th lap, Parker had built a sizable lead but Hoffman, who had won his only other race in the Elite Chassis car, slowly sliced into that lead.
After the cars stopped to refuel just past the midpoint, Parker continued to lead as he and Hoffman battled lap traffic. Finally, on the 38th lap, Hoffman seized his opportunity on turn 1.
"I was faster than him the whole race and was just kind of saving my tires until I knew when it was time to go,� Hoffman said. "We got to lap traffic at the right time and he was tucked up underneath the lap car and I just rolled him on the outside.�
Parker could only watch as Hoffman stormed past and then Mielke slipped around to take second place.
"My throttle was hung about half wide open and it was messing me up getting in the corners,� he said. "Lap traffic was just a killer. They were telling them to get out of the way and he'd go high and they'd go low and just wouldn't get out of the way. Nick made a good pass, got by me and won the race.�
Hoffman said he just had to be patient.
"He got me on the jump and I just kind of rode behind him,� he said. "I showed him nose a few times but he did a really good job at holding his line and keeping me pinched down so the only way I was going to pass him was move him or try it on the outside. That's what we did.�
Hoffman earned a $5,200 payday. Erwin settled for fourth, just ahead of Strickler.
A SUPER LATE MODEL
Arthur had no reason to be patient as he set the track record for a qualifying lap with a revolution of 14.160 seconds, topping the Late Model mark of 14.680 by CLR regular Ray Tucker.
The only thing slowing down Arthur, who resides in Forest, Va., was five yellow flags on the first 20 laps. But as the cautions ebbed to just one over the final 30 laps, Arthur's only problem was negotiating lap traffic.
"I always enjoy coming down here,� he said with a grin. "We've been here with the Steel-Block (Bandits Series) a few times and I always enjoy it. We just had a stellar weekend. You can't ask for a weekend better than this.
"We're on a roll right now and I hope we can keep it up.�
More interesting was Tennessee driver Billy Ogle Jr.'s charge from a 10th-place start to a runner-up finish in his No. 201 car.
"It was tough. You know, I thought we were going to wreck at least two or three times and I know I run over a couple of people trying to get stopped,� he said. "This place, it carries so much speed and it races big but it's small. You'll get to going down the straightaway and before you know it, you're carrying too much speed in the corner and you'll flush out and be trying to get off the corner and that's how people will pass you.
"A couple of times somebody got under me, I believe it was the 8 car (Dustin Mitchell), and he was there to take my position if I messed up and I about did once, but I got it back. I made a decision to don't get back out of the bottom or he's going by me, so I kept it in the bottom.
Impending series point champion Casey Roberts was third with Jared Landers in fourth and County Line regular Mitchell in fifth, two spots ahead of Roger Lucas, another local driver.
paul@wilsontimes.com | 265-7808
Back to News