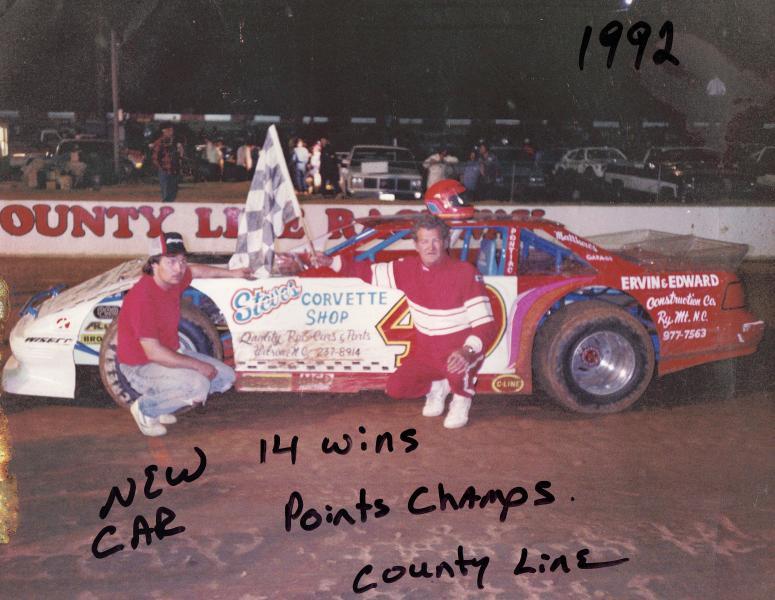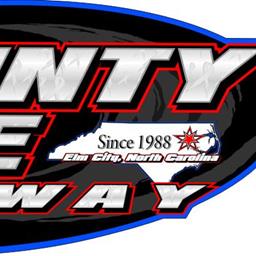 10/22/2012
County Line Raceway
---
Inaugural Roger Matthews Memorial This Weekend
Written by: Steve Summerlin
This Saturday night, County Line Raceway is happy to present the Inaugural Roger Matthews Memorial 125.
Roger Matthews racing career spanned nearly 35 years. His racing career began in a 37 Chevrolet Modified with brother in law Milton Farmer and help by Eugene Cook. It was not long before Roger moved on to full body stock cars and quickly became very competitive winning races at nearly every track he visited. The tracks included, The Raleigh Fairgrounds Speedway, Chantilly Speedway, The Old Fayettville Speedway both asphalt and dirt, Ormondsville Raceway, Brinkleyville, Wilson County Speedway and finally, County Line Raceway.
In 1980 Roger and stepson Mark became partners in a car and continued that partnership until the end of Matthews racing career. Mark built the chassis, worked on the motors and handled the paint work.
In 1988, after competing for several seasons on the big ½ mile at Wilson County Speedway, Roger and step-son Mark Batten felt they just didn't have quite enough motor to be competitive and traveled a short distance to a brand new 3/8ths mile dirt track located in Elm City, County Line Raceway. Roger and Mark came out to watch and quickly decided that this would be their new racing home. While talking with Mark Batten in his home, he explained, "The Late Model division was a little different at County Line Raceway. We took our car, closed in the back, put a new nose on, rolled the sides and we were ready to go racing.� The team quickly proved they were going to be a threat as the famous #49 set quick time first time out. In the feature Roger would tangle with fierce rival Bobby Webb with the end result being a DNF. The rivalry between Matthews and Webb would grow during the 88' season with Roger picking up an impressive 3 wins. Batten continued to talk about the different race seasons. "The 92 season was special; we were the car to beat. Roger won best appearing car and went on to win 11 races that season.� Other successful seasons at County Line Raceway included 1989, 8 wins, 1993, 7 wins and 1994, 8 wins. Mark stated that Roger always praised his long time crew members that included Mark Batten, Ray Batten, Don Leonard and James Nelms.
Roger was quoted in an interview saying, "It feels good to have everybody in the family involved in racing.� His step sons John and James then raced in the Limited Sportsman Division. They were joined in the pits by Ray, Mark and Bobby. Roger went on to say, "I don't have to argue about going to the races with my boys, I've been going to the races all my life.� Other than the occasional fishing trip, racing was the only sport he really enjoyed.
Roger's wife Mary was a huge race fan and his biggest fan. Mary loved racing so much that they built a car for her to try it. She never missed a race. Mary passed in 1987. It was through racing that they all healed together. It would have been what she wanted, for them to keep doing what they loved. As they say, a family that plays together stays together. It seemed to work with Roger Matthews and his family.
With 2 track championships under his belt, Roger would continue racing into the 1995 season at County Line Raceway. Mark Batten fought back the tears as he relived Rogers last season. "We didn't run power steering then. Roger told me he was tired and just didn't have the strength to wheel the car. We installed a new aluminum seat and power steering which allowed Roger to continue to race.� Batten went on to explain further, "his last race, Roger was running 2nd or 3rd and just pulled in, he was later diagnosed to have suffered a slight heart attack, it was then that we put James in the car.�
Roger Matthews was a simple man, he loved his family, he loved racing. Having everyone there with him on Saturday nights meant the world to him. I'm sure for those of us that were fortunate to witness Roger Matthews doing what he loved can still see that #49 blistering the 3/8th mile clay oval then climbing out of his machine, wearing the signature red driving suit with those white socks and tennis shoes and a smile bigger than life on his face. We will forever remember Roger Matthews with this Memorial event each year. Thanks for the memories Roger….
Back to News