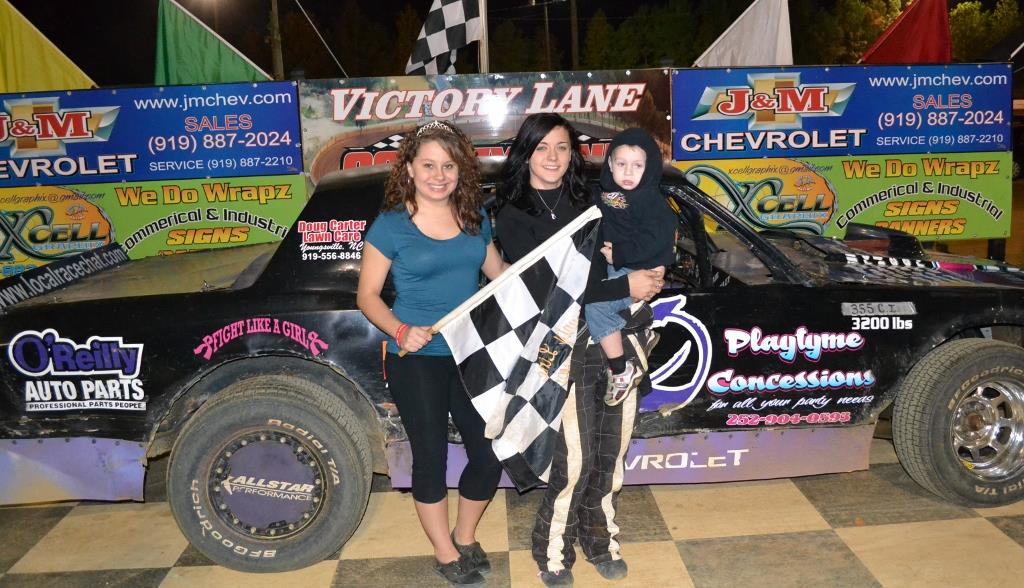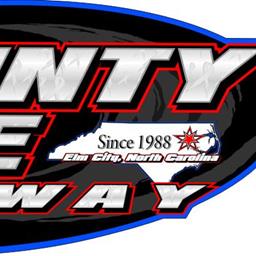 10/22/2012
County Line Raceway
---
Points Champions Crowned in Final Points Event of the Season
After a long week away, we were back at it for some hot racing action at County Line Raceway. With a couple of good points battles going on, tonight's double points would prove imperative as it was also final points! Who would bring home the win? Who would clinch the points championship? Who would win the Big Dawg Clash? Ashley Stott, Steve Summerlin, Angie or Kat? Gorgeous skies and beautiful weather gave us a great night to see the Nashville Feed Super Stock 4's, DRU Inc Open Wheel Modifieds, PL Woodard Pure Stock V8, ARCO Restoration Pure Stock 4's & Barnes Equipment Late Models do some great racing on this little track doing big things.
The 4 golf carts lined up side by side on the front stretch, Steve, Ashley, Angie & Kat right after intermission, ready for their lap around County Line Raceway. Angie got a great start at the drop of the green flag as Ashely trailed close behind. Steve was dead on the back of Ashley's golf cart going into turn 2 while poor Kat brought up the rear of the field. Angie seemed to be on cruise control as she had at least a 1/4 of a track lead over Ashley. Out of turn 4, Angie cruised to the checkered flag, finally getting redemption from last year's Big Dawg Clash. Congrats Angie!!
Our first feature, the Nashville Feed Super Stock 4 cylinder division, with Nevin Twiddy & Michael Rouse on the front row. This is not only final points for this class, but it is double points! With 223 points separating first and second, it was anyone's game at this point. Lap two would see 3rd place Brad Hamm lose an engine coming out of turn 4 bringing out the first caution. Great hard racing with this race as Michael Rouse lead Nevin Twiddy, Bill Winstead, Dustin O'Neal &Austin Holcombe. Caution on lap 6 would see Dustin O'Neal pit with a flat tire, as well as Austin Holcombe getting checked out as well. Back green with Rouse leading Twiddy, Winstead, Bottoms and Eric Hill. Great green flag racing all through the field until lap 14 when Ryan Joyner would spin in turn 4 collecting about 4 other cars. After a quick clean up by our track staff we were back green with 6 to go. Back green with Rouse leading Twiddy, Winstead Bottoms and Hill. Winstead would challenge Twiddy for 2nd spot as we came to 2 to go. Rouse with a good lead, Winstead with a few car lengths between him and 3rd place Twiddy. Coming to the checkered flag, literal madness ensued as Dakota Whitley, going for position on Eric Hill, when he made contact and got airborne in turn 3. He would ultimately land over by the guard rail, and was luckily ok, although his car was not. Taking the checkers it would be Michael Rouse, Bill Winstead, Glenn Bottoms, Dustin O'Neal & John Proctor. After figuring out the final points, John Proctor was declared your 2012 Nashville Feed Points Champion with a final total of 3969 points. Congratulations John on your Championship! * As of this writing, a protest amongst the top 5 had the possibility of changing up the top 5 in points as well as the finishing order of the race. As soon as I find out the correct finishing order, I will correct the final rundown as well as the top 5 in points.* "UPDATE- Bill Winstead was declared the winner"
Up next, our very exciting PL Woodard Pure Stock V8 division with Gary Whitley & Phillip Lamm on the front row. A couple of quick cautions would slow this 18 car field, but the racing was absolutely outstanding between these drivers. After getting some green flag laps in we would see a great battle p front with Whitley & Lamm as Wade Ferrell got around Carly Fulghum for 3rd spot. Jerry Williams peaking into the top 5 as the rest of the field settled into a single file line. Wade Ferrell would challenge Lamm for 2nd place as the caution came out for Austin Bunn who dropped a motor coming out of turn 3. Back green with Whitley in front of Lamm, Ferrell, Fulghum & Williams. Going into turn 4 Lamm would make contact with Whitley spinning him and bringing out the caution with 4 to go. After sending both cars to the rear, Wade Ferrell would lead Carly Fulghum, Spencer Whitley, Tony Harrell & Jerry Williams to the green. Ferrell out front, Fulghum closing in, caution! Amanda Liles would spin in turn 4 bringing out the caution and sending us into a green-white-checker scenario. Wade Ferrell would bring home his first win of the season followed by Carly Fulghum, Archie Whitley, Tony Harrell & Dwayne Whitley. Bringing home the points championship, Tony Harrell! Congratulations on your 2012 PL Woodard Pure Stock V8 championship! Correction: After declining protest, Wade Ferrell was dq'd and Carly Fulghum was declared the winner.
Returning to County Line for their final regular season event, the DRU Inc Open Wheel Modifieds with Taylor Cook and Kyle Strickler on the front row. Couple of quick yellows would slow the field briefly, but this 19 car field was quickly regrouped and ready for some green flag laps. Taylor Cook would lose the lead to Russell Erwin, then 2nd spot to Kyle Strickler as the laps seemed to fly by. A couple of cars would get out of shape on the back stretch, make a little contact and bring out the caution. Jake Houser would then pretty much drill the 6 of Ryan Ayers, destroying the rear end of Ayers' car and sending sheet metal flying across the track & up in the air. Back green, Erwin leading Strickler who was being challenged by Cook for 2nd. Russell Erwin would continue on to the checkers bringing home his 4th win of the season as well as the 2012 DRU Inc Open Wheel Modified 2012 Points Championship. Congratulations Russell on the win & the points championship. Russell was followed by Taylor Cook, Kyle Strickler, Chris Parker & Chris Arnold.
Our 4th feature of the night, the ARCO Restoration Pure Stock 4 division with Michael Webb & Brent Atkinson on the front row. Webb would lose the lead to Atkinson, then 2nd spot to Eric Hobgood. Thomas Holbrooke rode in 4th spot and Chris Collins would round out the top 5. Lot of green flag laps for this class with the exception of a couple of quick cautions. One two car wreck slowed the field as one of them climbed the berm in turn 4. Back green with Atkinson leading Hobgood, Holbrooke, Webb & Collins. JP Brantley would come to a stop in turn 4 bringing out the caution, but we were quickly green. Brent Atkinson would lead the field the final 3 laps to bring home his 3rd win of the season. He was followed by Eric Hobgood, Thomas Holbrooke, Michael Webb & Wesley Johnson. Michael Webb would also bring home the 2012 points championship in the ARCO Restoration Pure Stock 4's. Congratulations on your championship Michael!
The always exciting Barnes Equipment Late Models lined up outside of turn 4, ready for 30 door banging laps with Neal Sykes & Russell Erwin starting on the front row. After the 2nd attempt at a green flag, Neal Sykes jumped out to the lead followed by Russell Erwin, Travis Hair, Ray Tucker & Roger Lucas. Cy Nelms Sr was dead on the bumper of 5th place Lucas, trying to take that spot away as Christan Joyner began to work on Christian Thomas for 6th spot. JC Clary & Ronnie Boykin rounded out the top 10. Out front, it was all Neal Sykes as he began lapping traffic right before the half way mark. Russell Erwin was holding off Travis Hair while Ray Tucker gained on the 91 of Hair. The battle was essentially for 2nd spot as Neal Sykes had about a half lap lead on Erwin as we came up to 10 to go. 5 to go and Hair is all over Erwin, Tucker close behind. Only 2 laps to go in this caution free race, and Hair gets around Erwin for 2nd spot while 4th 5th and 6th place were 3 wide out of turn 4! Cy Nelms Sr would take over the 5th spot from Lucas as Neal Sykes brought home the checkers. He was followed by Travis Hair, Russell Erwin, Ray Tucker & Cy Nelms, Sr. Also, the 2012 Barnes Equipment Late Model points championship would go to Cy Nelms, Sr. Congrats Cy on your points championship!
As always, County Line Raceway has a powder puff race for the ladies at the end of the season. Tonight would the ladies 4 cylinder & V8 powder puff. Up first, the 4 cylinder drivers would come out for practice before their 5 lap feature. Twiana Carroll would bring home the trophy in this 5 lap race, as Kelly Howell would bring home the win in the PSV8 race. Congrats ladies! Way to show those fellas!
If you're in the listening area on Monday, be sure to listen in to the Big DAWG & Kat's Kitchen at noon. Steve Summerlin & Steve Vail will be discussing tonight's racing action & giving a preview of next weeks events. Also, come out to Oak Tavern on Tuesday for Red Clay Tuesday. We'll be watching tonight's racing on the big screen tv's, hanging out & talking with friends.
We have a big day/night planned for next Saturday, October 27th. Next Saturday we will have the Inaugural Roger Matthews Memorial 125 Benefiting Susan G Komen Breast Cancer Foundation with activities starting at 9:00 AM. We will be holding a Corn Hole Tournament with registration starting at 9:00 & the tournament starting at 10:30. First prize is $150 & a trophy for each team member! From 12-2, we'll have Play Time Concessions out with some bounce houses for the kid to enjoy. From 2-4, we'll have Trunk or Treat. Drivers, fans, car owners, bring your race car or personal car out with candy for the kids. We'll have your cars on display in the front area of the parking lot for fans to take photo's and meet the drivers. At 4:00 we'll have a costume contest for our kids that want to participate. Prizes will be awarded to winners in each age group. Stick around for the hot racing action as well! We'll have the ARCO Restoration Pure Stock 4's, Nashville Feed Super Stock 4's, PL Woodard Pure Stock V8's, and for the first time in County Line Raceway History, the Rapid Red Racing Supply Thunder & Lightning will race door to door for $1000 to win TOPLESS!! Also, our Barnes Equipment Late Models will run 49 laps in memory of Roger Matthews & they will be topless as well! Come on out for a good night of hard racing!!
If you have any questions, please check out www.countylineracewaync.com/, Like us on Facebook, follow us on twitter or go to the County Line Raceway forum on LocalRaceChat.com for information. If you can't find your answer there, feel free to call the track at 252-985-1949
Thanks so much for your support, and we'll see you at the Line!
Back to News